Single Pocket Industrial Tumble dryers
We manufacture and supply a range of commercial and industrial tumble driers in matching capacities to our washers.
In the smaller sizes (to match top load washers and commercial front load machines) we recommend stack dryers (one above the other) to minimise floor space and maximise productivity. These can be either gas or electrically heated and each of the stacked units has an individual motor, control system and heating system so there is no need to worry about redundancy.
For the front-loading commercial washer, we offer a dryer unit that can either be placed as a single unit side by side with the washer, or it can be ordered as a stack washer dryer with the dryer on top of the washer making a great use of space. This stack washer dryer is the most popular option for laundromats in the African and Indian markets today.
For the large industrial washing machines we offer high speed dryers in matching capacities with large doors that can easily handle king size duvets, curtains and other such bulky items. These dryers can be either gas or electrically heated but require a three-phase electrical connection if electrically heated. (pic)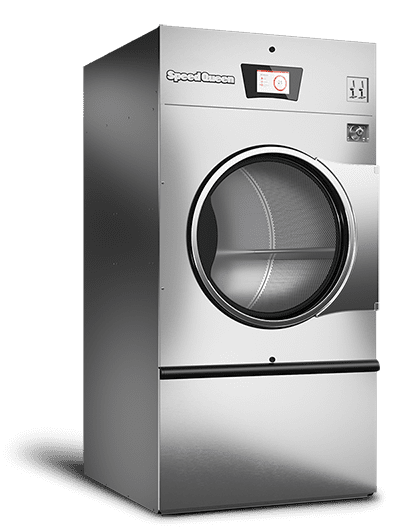 | Specs | |
| --- | --- |
| Type | Industrial tumble dryer |
| Control | Touch control |
| Drum capacity | 14 Kg |
| Drum volume | 272 L |
| Heating | Gas / Steam / Electric |