A laundromat is a stable & profitable investment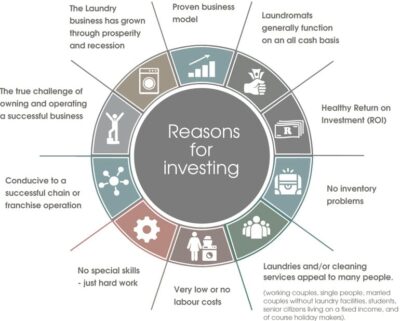 When it comes to investing your money we know that that the more information, more potential and less risk there is, the better for your peace of mind. Let's find out why an investment in a laundromat is a good idea.
Proven business model.
For decades, laundromats have been a sound business investment. Literally thousands of people like you around the world decided that self-service laundry was the best business opportunity for them.
Low initial investment.
The initial start-up costs of a laundromat are very reasonable when compared to other potential investments. Excluding rental and shop fitting, a very basic laundromat can be started with as little as $2000 in some cases. Depending on the return required we can scale up the laundromat in machines and offerings to be whatever you desire. In fact, one of our larger European chains have just opened their 700th store!
High success rate.
Due to self-service laundry advantages such as minimal staffing requirements, loyal customer bases and the consistent need for the service, investors can benefit from highly competitive returns. The actual ROI (Return On Investment) will obviously differ according to many criteria but we have seen ROI's from as short as 9 months through to an average of 17 months. Once you have determined your investment level and the type / quantities of machines required, our team can help you with more accurate projections.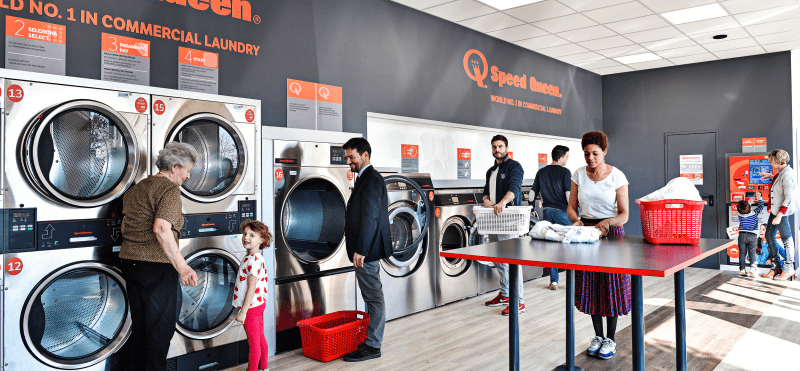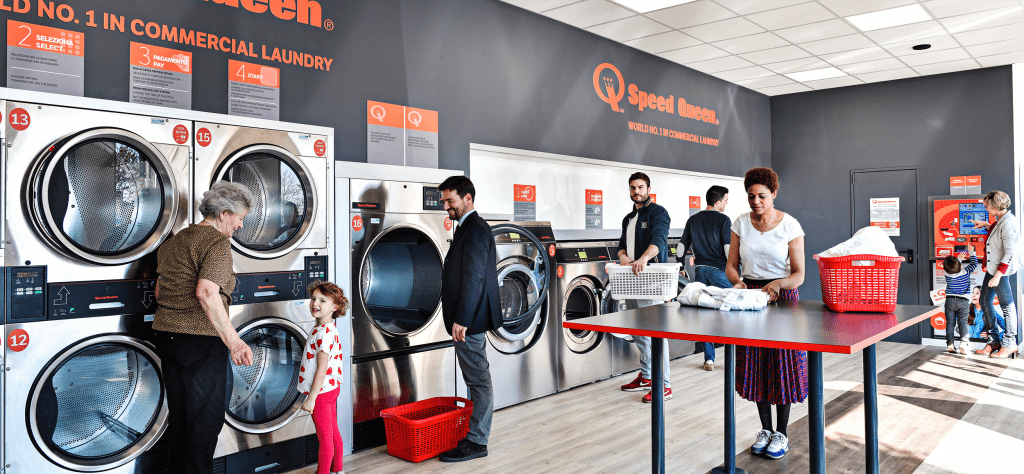 Constant demand.
Unlike the majority of investments, self-service laundries are not directly tied to the economy. In many cases, demand actually increases during a recession as consumers search for a convenient, affordable way of doing laundry.
Recession-proof investment.
People always need to wash clothes and linen so the business is more recession proof than most. Seeing as you can diversify into some small commercial washing (maybe a guesthouse?) you can have multiple revenue streams so that even if one sector is quiet, the business continues.
Uncommon flexibility.
Most investments force you to adjust your life to fit your business. In self-service laundry, you can adjust your business to fit your life. Your laundry could be large or small, full-time or part-time, whatever best suits your goals and lifestyle.
Very low fixed overheads.
The fixed overheads of a laundromat are very low when compared to traditional businesses. Apart from the rent if applicable, almost all other costs are associated with revenue – ie they only increase when you are earning money (cost of water, energy, chemicals etc).
An all-cash business.
Customers pay for your services up front. That means that you don't have to worry about collecting debts, bounced cheques or customer non-payment. As a result, bookkeeping becomes a lot easier and profits become a lot steadier.
Minimal or even zero staff costs.
In self service laundromats, there are no staff involved, just an owner collecting cash on a daily basis. Even in a busy serviced store, it is rare to find more than 3 people.
High-performing laundry machines.
Alliance has manufactured professional washer and dryers since 1908, focusing exclusively in Laundry. Our washers & tumblers, built with premium materials, are known world wide in the laundry industry and extremely reliable and high performing equipment.
Advanced controls.
Today's equipment features sophisticated controls that allow you to monitor and manage your laundry business store from almost anywhere in the world, resulting in personal flexibility and maximised profitability.